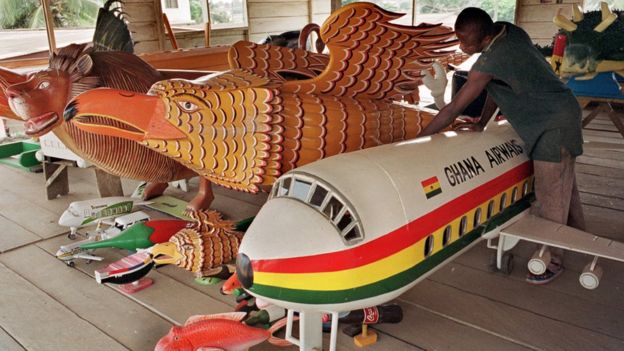 ACCRA'S FANTASY COFFINS
Across the world, funerals are very much the same. Generally, a sombre ceremony, where memories are shared and tears are shed in church pews, funeral grounds or family homes - and you just cannot forget the attendees, including relatives and friends in all black forming a single file line behind the hearse. At the graveyard, last respects are paid to the deceased before proceeding to the family's home. During this time, the gate and doorbell ring with a steady stream of loved ones— in hand, casserole dishes and money since, in the days ahead, people usually forget to eat.
However, there are different approaches to memorizing death in Africa. For instance, In Ghana funerals are raucous affairs which even involves people who have no idea whom the deceased was. Hence making it a social event. A social event because funerals in Ghana have the tendency to cost up to a year's salary benefitting entrepreneurs including photographers, bartenders, DJs, professional mourners and coffin makers who have developed a fashionable way to celebrate the dead, "abebuu adekai".
The "abebuu adekai" meaning proverb coffins culture developed mainly from Accra, pays tribute to the occupant with a personalized and often spectacular design. This is usually because, funerals are often uplifting occasions in Ghana, where it is widely believed that death is the beginning of an afterlife, and the deceased should receive a rapturous send-off.
The unique custom which has its roots from the Ga community has designed coffins in the shape of Porsches, naked women, Nike trainers, cameras, Coca-Cola bottles and chilli peppers.
The array of coffins which tempts buyers was started by Seth Kane Kwei whose nephew and former assistant, Paa Joe, is currently Ghana's most prolific coffin artist after five decades in the funeral industry. The master craftsman is behind some of the most extravagant caskets in the world with his work bought by US presidents (ex-US president Jimmy Carter, is reported to have purchased two coffins) and appearing in museum collections all over the world.
Joe discovered coffin-making when he was 16, worked with Kane for 12 years before returning to Accra in 1976 to establish his own workshop.
His first fantasy coffin, carved in 1978, was in the shape of a building and designed for a real-estate developer.
His work has received international recognition – displayed at the Pompidou Centre in Paris, the British Museum and the V&A in London, as well as the Brooklyn Museum in New York.
In 2014, a coffin in the shape of a Porsche made by Kane Kwei's nephew and former assistant Paa Joe set a record for "abebuu adekai" at London auction house Bonhams when it sold for $9,200
The coffins intended for burial are made from a softwood and those considered works of art and bound for homes and galleries, are made from mahogany. The local price for a coffin for conventional use is equivalent to about £1,500, depending on the commission. Those created for exhibitions can fetch up to £8,000.
Despite the success, London gallerist Jack Bell has argued that "abebuu adekai" recall the work of celebrated contemporary American artist Jeff Koons. The fantasy coffins play with the idea of the scale by spectacularly reimagining objects of every day and awarding them near iconic status.
Kane Kwei Coffins, the oldest fantasy coffins workshop managed by Kane Kwei's son Cedi Anang and grandson Eric Adjetey Anang is under threat with land prices in the city going up. The property is suddenly very valuable, and some family members want to cash in.
As the market for fantasy coffins grows, novelty carpentry is steadily being transformed into contemporary art.